View all News
Managing Anger Before It Manages Your Group
Managing Anger Before It Manages Your Group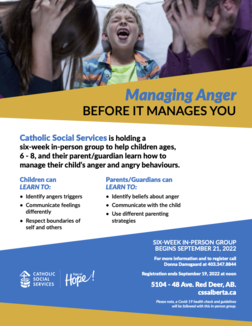 Dear Community Partners,
This is to inform you of one of our upcoming Working with Anger groups offered by Catholic Social Services for children and their parents/guardians.
The "Managing Anger Before it Manages You" group for children ages 6-8 years old, will be an in-person 6-week group, facilitated by myself, Donna Damsgaard, MA, Registered Child and Youth Care Counsellor and co-facilitated by a Masters level intern.
Working with Anger groups involve a set of psycho-educational groups, using therapeutic approaches, games and activities to help families with children understand emotions behind anger. It also covers techniques on how to express anger and other emotions in healthy ways. Both children and their parents/guardians will have opportunities to apply these skills in joint and separate group sessions.
The sessions will run for six consecutive weeks beginning Wednesday, September 21, 2022 from 4:30 to 6:00 pm.
They are as follows:
Session 1: Understanding Anger, Yours and your Childs'
Session 2: Catching Anger Before It Gets Out of Control
Session 3: Tools for Managing Anger
Session 4: Effective Communication Skills
Session 5: Problem Solving and Conflict Resolution Skills
Session 6: Putting it All Together and Celebration
In-person group sessions will be held at Catholic Social Services, 5104 – 48 Avenue, Red Deer, AB, from 4:30pm – 6:00pm. Please feel free to display and pass along attached poster to others.
For more information and registration for the group, please contact Donna Damsgaard at 403-347-8844. Registration deadline is noon on Monday, September 19, 2022. The occurrences of the groups are dependent on the number of participants.
Thank you for your continued support of the Working with Anger Group under the Family Care Program.

Donna Damsgaard, MA, R-CYCC
Community Family Counsellor
Family Care Program, Catholic Social Services
Main: 403-347-8844
Cell: 587-679-2532
Email: donna.damsgaard@cssalberta.ca
Posted on