Bus Stop and Student Drop Off
Bus Stop and Student Drop Off
Where does the School Bus Stop?
Allow three to five business days for busing arrangements to be set-up. Ensure your child is at the designated stop five minutes prior to the scheduled pick-up time.
Your bus driver will contact you with information on the bus stop location and pickup and drop-off times. Busing will not commence until the driver has contacted you.
For students registered for the upcoming school year, parents will be contacted before the first day of school.
Be aware that we use larger buses and it is not possible to do pick-up and drop-off in cul-de-sac streets. If you have a concern with a stop location, contact our Transportation Department. 
Please note that bus drivers are not allowed to change or add stops without proper authorization.
Student Drop Off
At Red Deer Catholic Regional Schools, it's the school communities and parents who share in the responsibility of providing Christ-centred, safe and caring environment for all students. The Transportation Department, an extension of the school communities, focuses on providing a safe environment for students while they commute on the bus to and from school.
Administrative Procedure No. 340: Student Transportation To and From School addresses drop-off of Pre-Kindergarten, Kindergarten and Grade 1 students and state:
"No student in Pre-Kindergarten, Kindergarten and Grade 1 will be released by the bus driver at the student's designated stop without an approved person, (such as parent/guardian/older sibling/ babysitter/neighbour) being at the drop off point to ensure safety from school, unless the parent has specified otherwise in writing to the principal."
Parent letters and waiver forms are sent home at the beginning of the school year.
Know Your Zone, Safely Home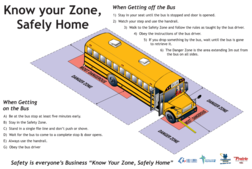 We want to ensure our students remain safe at all times while being picked up and dropped off from the school bus. Please read below our information about safety zones:
A safety zone is an area (at least 1 metre from the curb of a road) where students must stand when waiting for the school bus to arrive and depart.
In the morning (five minutes prior to pick-up time), students of all ages are required to line up in the safety zone until the bus door opens.
This also applies in the afternoon when the school bus operator drops students off. All students need to wait in their seats until the bus door opens before heading to the safety zone. Students and their families need to remain in the safety zone until the bus departs.
Students and their families are NOT allowed to cross in front or behind the bus during pick-up or drop-off, as the City of Red Deer does not use alternating flashing red lights to control traffic.
School Bus Parking Zones
Please be aware of the school bus zone at your child's school, as this area is often congested. Parking in this zone is illegal during specified hours and presents a serious safety hazard for the loading or unloading of students. Any vehicles parked in the school bus zone at your child's school during the specified hours may be ticketed and towed at the owner's expense.