French Immersion
French Immersion well-established in our schools
We have a well-established French Immersion program. 
French Immersion is designed for students who have the desire to learn the French language. Students may register as early as Kindergarten or Grade 1. In elementary school, French is the language of instruction for all subjects except Religion. Starting in Grade 3, students begin regular English Language Arts classes. At middle and high school, students receive between 50% and 80% of their instruction in French, depending on the program selected and grade level.
We hope students:
Become bilingual
Develop an appreciation of the French culture through cultural events and/or entertainment
Acquire fluency to speak, read, write and listen in French
Retain, maintain and improve their competencies in their native language
Instruction in the classroom focuses on:
Teaching curriculum content
Responding to the child's educational interests and needs
Creating an atmosphere in which second language development is nurtured and encouraged
Facilitating meaningful communication in French
Our French Immersion program provides students with a wealth of experiences and advantages within the classroom walls and beyond. The program follows the regular Alberta Education curriculum in French with the addition of a regular English Language Arts Program. The program targets students with non-French-speaking parents while enriching and complementing a child's first language. It also enhances a student's academic growth and encourages new ways of thinking.
Learning a second language also teaches students about other cultures and broadens their perception of their own culture. In Canada, knowing both official languages opens doors to many exciting career opportunities.
Please note the language of communication between home and school is English.
Parent Resources
Our French Immersion Schools
French Immersion is offered in four of our schools:
École Camille J. Lerouge School (fully French Immersion school)
Kindergarten to Grade 9, Red Deer
École Mother Teresa School (dual track)
Grade 5 to Grade 9, Sylvan Lake
École Our Lady of the Rosary School (dual track)
Pre-Kindergarten to Grade 2, Sylvan Lake 
École Secondaire Notre Dame High School (dual track)
Grade 10 to 12, Red Deer 
Why French? Why not!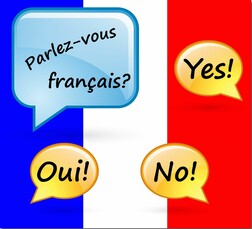 Considering French for your child?
Learning a second language can:
Improve your child's learning and listening skills
Increase cognitive abilities, creating "outside of the box" thinkers
Encourage your child to think critically and creatively
Make learning another language much easier
Consider the many advantages that knowing a second language can provide your child with:
Rich learning experience
Increased educational and career opportunities
A strong understanding of different perspectives, cultures, and people
An openness to new situations and experiences
French is also one of the easier languages for English speakers to learn because of the similarities in alphabets, sentence structure, and many words.
French Immersion benefits all students
French Immersion is open to everyone. There are no entrance requirements.
There are many benefits to being enrolled in the French Immersion program, such as:
Being fluent in a second language (French)
Having a greater understanding on the mechanics of a language
Learning about a new culture
French beyond High School
When immersion students graduate from high school, they should have reached a level of proficiency that allows them to enjoy the benefits of bilingualism.
Consider further studies in French:
All Alberta universities offer French courses such as literature and linguistics. Some offer a year in France!
The University of Alberta, Campus Saint-Jean offers Canada's only bilingual commerce program. This campus also French language instruction in Bachelor of Arts (B.A.), Bachelor of Science (B.Sc) and many other programs of study.
NAIT offers a full-time bilingual business administration program and evening courses in business communications and marketing.
The University of Calgary offers a variety of undergraduate course taught in French, as well as a Certificat d'etudes francaises.
Alberta Learning offers scholarships to students with high academic standings to pursue post-secondary studies in French.