Grade 6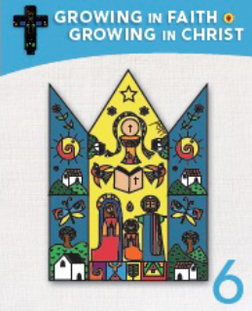 The Grade 6 Growing in Faith, Growing in Christ program follows the flow of the liturgical year, respecting the different seasons with all the moods and colours found in them. Drawing on various stories from Scripture, students will learn the mood and meaning of all of the Church seasons. Each season has its own theological emphases, guiding us through the story of our salvation.
The content of the units informs and forms our students. Using their gifts and witness of faith, teachers evangelize as they hand on the faith. The Grade 6 Growing in Faith, Growing in Christ program fits nicely within the Church's evangelizing mission as it highlights and references the liturgical celebrations in the parish for each of the liturgical seasons and connects to the faith and cultural celebrations in the home.
Themes
The Grade 6 Resource is comprised of the following five units. The length of the unit is based on the number of weeks in the liturgical season.
Unit 1: God Calls Us to Know Him begins in Ordinary Time, a season of growth. Students will explore the many ways that we can come to know God—through Jesus and Scripture; through creation (the natural world and every human person); through our ability to reason; through the gift of faith; through the Church and the Mass; and through the truth, goodness, and beauty God brings to the world. They will also come to understand how God calls all people to Him and welcomes all who believe. The Church is catholic (universal and whole), and its mission is to spread the Good News so that everyone can come to know the love and mercy of God.
Chapter 1: How Does God Reveal Himself to Us?
Lesson 1: How does experiencing God's creation help us know God?
Lesson 2: How does understanding Scripture help us know God?
Lesson 3: How does our ability to reason help us know God?
Lesson 4: How does having faith help us know God?
Saints: St. Thomas Aquinas and C.S. Lewis (though not a saint is a great model of the faith)
Chapter 2: How Does the Church Help Us Know God?
Lesson 5: How does Jesus teach us that His Church is for all people?
Lesson 6: How was the Good News passed on from the early Church to help us know God today?
Lesson 7: How does understanding the mission and authority of the Church help us know God?
Lesson 8: How does understanding Church teaching and Tradition help us know God?
Saints: St. Lucy Yi ZhenMei
Chapter 3: How Does the Mass Help Us Know God?
Lesson 9: How does celebrating Mass inspire us to know God?
Lesson 10: How does the Mass prepare us to serve God and others?
Unit 2: O Come, Divine Messiah celebrates Advent and Christmas, and extends to Epiphany. In this unit, students will explore how the Holy Family helps us know and love God. Students will consider what Jesus, Mary, and Joseph teach us about our relationship with God, our families, and our church community. They will examine the Church's teaching about the life of Mary and reflect on how she models holiness for us and supports our faith. They will also explore how Jesus, through His Incarnation and public life, reveals God to all of us. The unit also allows students to discover prayer as a way they can continue to grow in a relationship with God.
Chapter 4: What Does Mary Teach Us About God?
Lesson 1: What was Mary's role in the Incarnation?
Lesson 2: How does the following in Mary's footsteps help us grow in holiness and virtue?
Saints: St. Anne and Our Lady of Fatima
Chapter 5: How Does Jesus reveal God?
Lesson 3: How does the life of Jesus help us understand His mission?
Lesson 4: How can different forms of prayer help strengthen our relationship with God and bring us peace during Advent?
Lesson 5: How can the Holy Family inspire us to live a holy life?
Saints: St. Joseph
Unit 3: Answering God's Call to Serve marks the beginning of the calendar year and the beginning of Ordinary Time in the liturgical calendar. In this unit, students will explore the importance of fidelity and conversion in fulfilling God's will, and their personal responsibility in living out their baptismal mission as priests, prophets, and kings, following Jesus as their model. Students will expand their knowledge of the vocational paths of the laity (married and single), the consecrated (religious), and the clergy (ordained), and will discover how each Christian vocation serves the Church and helps build the Body of Christ. As they engage in their own personal journey of vocational discernment, students will develop their understanding of how the Holy Spirit provides the gifts and the grace needed to answer God's call to serve.
Chapter 6: What Does It Mean to Serve God?
Lesson 1: What can we learn about God's call from people in the Old Testament?
Lesson 2: How does God's grace help us live our baptismal mission?
Chapter 7: How Can We Lead Lives That Fulfill God's Call?
Lesson 3: How can we know what God is calling us to do in our lives?
Lesson 4: How do those called to the religious life and the ordained life discern how they will serve God?
Lesson 5: How do the ordained members of the Church guide us in answering God's call?
Saints: St. Alphonsa of the Immaculate Conception and St. Benedict of Nursia
Unit 4: Take Up Your Cross focuses on key themes of Lent and Easter, including repentance, forgiveness, conversion, reconciliation, hope, new life, and salvation. Students will explore how their journey through Lent and Easter helps them follow God's will to live a moral life. They will learn how the rituals, symbols, prayers, and scripture readings of the season help them understand the Paschal Mystery, follow Jesus' teachings, and live by God's laws. They will come to understand how they can form and educate their conscience to help them make good moral decisions, develop virtues, and grow in holiness. They will recognize how they can strive, as individuals and as communities, to grow closer to God.
Chapter 8: How Do We Honour God's Will during Lent?
Lesson 1: How does Jesus guide us to know and follow God's will?
Lesson 2: How do the Paschal Mystery and the rituals and symbols of Lent help us better understand and live by God's will?
Chapter 9: How Do We Show Our Love for God during Lent?
Lesson 3: How can we focus on forming and examining our conscience during Lent?
Lesson 4: How do God's laws and Church teachings guide our conscience and our communities?
Lesson 5: How does following our conscience and developing virtues help us grow in holiness?
Saints: St. Vincent de Paul and St. Louise de Marillac
Chapter 10: How Do We Celebrate God's Love at Easter?
Lesson 6: How do our Easter liturgies, prayers, and rituals help us celebrate God's love and live as God wills?
Saints: St. Pio of Pietrelcina
Unit 5: Gather Us Together is based in Ordinary Time. In this unit, students will explore how God reveals the human dignity of all people and how we are called to witness to justice and service in our mission to honour dignity. Students will examine how we are guided in our mission to respect diversity and work for equity in order to affirm dignity. They will learn about similarities and differences with other faith traditions and the importance of dialogue in working for unity and justice. Students will also learn how to follow the example Christ gave us to honour dignity: we witness to justice with our service as we continue His mission to work for the common good of all people and share our faith.
Chapter 11: How Does the Word of God Guide Us to Recognize Dignity?
Lesson 1: How does the Church guide and support us during Lent?
Lesson 2: What helps us answer God's call to holiness?
Saints: St. Teresa of Avila and St. Katharine Drexel
Chapter 12: How does our faith help us respect diversity and dignity?
Lesson 3: Why should we communicate with God through different expressions of prayer?
Lesson 4: How does God's grace work within us?
Lesson 5: How do we remember Jesus' love and sacrifice during Holy Week?
Chapter 13: How do we witness to justice with our service?
Lesson 6: What do Easter and Pentecost teach us about our own faith journey?
Saints: Dorothy Day
Students will also be learning the prayer:
Prayer for Vocations
God,
in Baptism you called me by name
and made me a member of your people, 
the Church.
Help all your people to know their vocation in life,
and to respond by living a life of holiness.
Send your Spirit to guide and strengthen me
that I may serve your people
following the example of your Son, Jesus Christ,
in whose name I offer this prayer.
Amen.
If you have any questions about the content of this program, please contact LeeAnn Arsenault, Faith Permeation Lead Teacher for Red Deer Catholic Regional Schools at leeann.arsenault@rdcrs.ca.