English as a Second Language (ESL)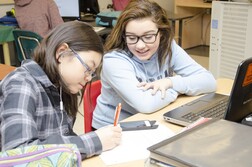 English Language Learners (ELL's) are students whose first language is a language other than English.
Students may have recently immigrated to Canada or may have been born in Canada and live in a home where English is not the primary language.
Programming
We support all diverse learners within an inclusive classroom.
The classroom teacher and the teacher responsible for ELL's collaborate in the planning, instruction and assessment of the grade level curriculum. The classroom teacher provides targeted instruction specific to the needs of the student through differentiated instruction, either individually or in small groups, as needed.
What school should I attend?
Families are encouraged to attend the Catholic school closest to their home. Attending your neighbourhood school will help you and your family connect with other families. That is why we offer support to all our ELL's from Pre-Kindergarten to Grade 12 in all of our schools.
ELL's are in a class with students of similar age. Research tells us that ELL's are more successful when they learn with their friends and peers their own age.
How do I register my child?
Our schools are publicly funded and welcome children of all faith who desire a Catholic education.
Register your child at your neighbourhood Catholic school. This will help you make connections in your community. For a list of our schools, please visit www.rdcrs.ca/schools/our-schools or check out our school catchment area map.
Bring your birth certificate, report cards and all your current legal documentation from Immigration Canada. If you are Catholic, please bring your Baptismal certificate.
YOUR APPOINTMENT
At the time of registration, the school will make an appointment for you with the ESL Reception Centre. For students attending any rural school located in Blackfalds, Innisfail, Olds, Rocky Mountain House or Sylvan Lake, the ESL Reception Centre is located in the school. The appointment will be about one to two hours long. If required, the ESL Reception Centre will arrange, at no cost, for an interpreter to attend your appointment.
Please note that if you are registered at St. Patrick's Community School, St. Joseph High School or École Secondaire Notre Dame High School, your parent interview and student language assessment will take place at the school.
It is very important that you attend your appointment. Your child's English abilities (oral, written and reading) will be assessed. Family information will also be collected to help develop proper support for your child. This information will be shared with the school you are registered at.