English Language Arts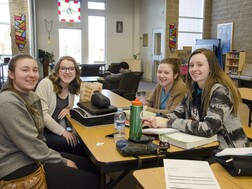 Literacy is an area in which we strive for excellence. Strategies to improve student fluency, accuracy, comprehension, and vocabulary are infused into all subject areas, but none more than the English Language Arts Classroom. Through a variety of teaching methods in our English Language Arts classes, including Daily 5 and Reading and Writing Workshop, students are encouraged to develop deeper understandings of language.
When students struggle, interventions are put in place to help students improve and excel. Treating every student as a gift from God helps us to place the focus on assisting all students when they need help and celebrating with them when they succeed. We are very proud of our literacy program and encourage you to learn more by watching this video.

Grade 10 - 12:

There are two basic aims of high school English language arts. One aim is to encourage, in students, an understanding and appreciation of the significance and artistry of literature. A second aim is to enable each student to understand and appreciate the language and to use it confidently and competently for a variety of purposes, with a variety of audiences and in a variety of situations for communication, personal satisfaction, and learning. An appreciation of literature and an ability to use language effectively enhance students' opportunities to become lifelong learners while experiencing success and fulfillment in life. 
For more information on English Language Arts, please visit the Alberta Education website (Grade 10 - 12).
Exposure to a variety of text and ideas helps children to develop the empathy and respect they need to be the light of Christ in our world. Students are encouraged to explore other's thoughts and experiences through collaborative and independent work to show Christ's love to others.