Grade 3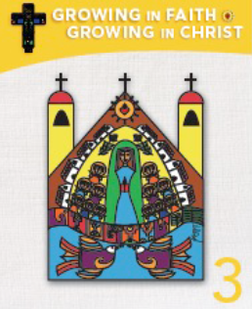 The Grade 3 Growing in Faith, Growing in Christ program follows the flow of the liturgical year, respecting the different seasons with all the moods and colours found in them. Drawing on various stories from scripture, children will learn the mood and meaning of all of the Church seasons.
Each season has its own theological emphases, guiding us through the story of our salvation. The content of the units informs and forms our students. Using their gifts and witness of faith, teachers evangelize as they hand on the faith. The Grade 3 Growing in Faith, Growing in Christ program fits nicely within the Church's evangelizing mission as it highlights and references the liturgical celebrations in the parish for each of the liturgical seasons and connects to the faith and cultural celebrations in the home.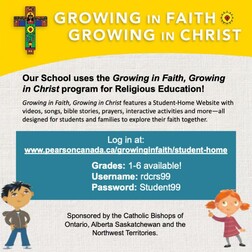 Themes
The Grade 3 Resource is comprised of the following five units. The length of the unit is based on the number of weeks in the liturgical season.
Unit 1: Our Catholic Community is based in Ordinary Time. In this unit students will explore what it means to be part of the Catholic community. They look at what the life of Jesus teaches us about community and how Mary's example helps us live in and strengthen our faith community. They will explore the lives of saints and how they are models for the Catholic community. Students will also be introduced to God's gift of free will and how their own choices and actions affect their community.
Chapter 1: What Is a Catholic Community?
Lesson 1: Welcome: Our Classroom Community
Lesson 2: Our Faith in Action in the Community
Lesson 3: Pray Always
Lesson 4: Jesus Guides Our Catholic Community
Saints: Mother Teresa
Chapter 2: Who Is Mary?
Lesson 5: Mary, Our Church Mother
Lesson 6: Mysteries of the Rosary
Saints: St. Dominic Guzman
Chapter 3: Who Are the Saints?
Lesson 7: Communion of Saints
Lesson 8: Celebrating the Saints
Saints: St. Andre Bessette, St. Kateri Tekakwitha, St. John Paul II
Chapter 4: What Is Free Will?
Lesson 9: God Gives Us Freedom to Choose
Lesson 10: God's Forgiveness
Lesson 11: Christ Our King
Bible Stories: Jonah Tries to Run from God
Unit 2: The Road to Bethlehem presents the seasons of Advent and Christmas through story and scripture. Students will explore the meaning of Advent and Christmas and how they can share the Good News with others. They will be introduced to the prophets, who revealed God's promise to send a Messiah, and they will understand how the birth of Jesus was the fulfillment of the prophecies. They will learn more about the ancestors of Jesus through the Jesse Tree. They will also be introduced to missionaries and begin to understand how they can be missionaries in their own communities.
Chapter 5: What Is the Meaning of Advent?
Lesson 1: We Wait in Hope
Lesson 2: The Promise of a Saviour
Lesson 3: Mary Leads Me to Bethlehem
Bible Stories: God's Promises to His People, God's Promise to Isaiah, The Annunciation, The Visitation, The Magnificat, Mary and Joseph's Journey, Prophesies of the Messiah (Isaiah 11: 1-2, Isaiah 9:6)
Chapter 6: What Is the Real Meaning of Christmas?
Lesson 4: God Fulfills His Promise
Lesson 5: God Calls Us to Be Missionaries
Saints: St. Paul
Unit 3: Born of the Spirit is based in Ordinary Time and focuses on how the Holy Spirit is revealed to us through the scriptures and the sacraments. Students will learn that we are strengthened through the gifts and fruits of the Holy Spirit and how our actions and words reveal that the Holy Spirit is at work in our lives. They will also begin to understand that we are members of the Body of Christ. As the Body of Christ, with the help of the Holy Spirit, we are called to proclaim the Good News of Jesus Christ. Students will also be introduced to people, saints, and Catholic agencies whose lives and actions are examples of our mission as members of the Body of Christ.
Chapter 7: Who Is the Holy Spirit?
Lesson 1: The Holy Spirit
Lesson 2: God's Grace
Bible Stories: Adam and Eve
Chapter 8: What Is the Role of the Holy Spirit?
Lesson 3: God's Law
Saints: St. Elizabeth Seton, St. Anthony Padua
Bible Stories: God's Commandments
Chapter 9: How Do We Show the Holy Spirit?
Lesson 4: God Is Always with Us
Lesson 5: Building Up the Body of Christ
Lesson 6: Serving as Jesus Served
Saints: St. Basil the Great, St. Vincent Pallotti, Blessed Joan of Toulouse
Bible Stories: Nicodemus Visits Jesus, A Man Born Blind, A Girl Brought Back to Life, Jesus Heals a Centurion's Servant
Unit 4: Our Lenten Journey roots the passion and death of Jesus in the liturgical celebrations of Lent and Easter. Students will review and build on Lenten topics covered in previous grades in preparation for Easter. They will recall that Lent is a season of repentance and that, as followers of Christ, we are called to confess our sins and ask for forgiveness. Through this unit, students will begin to understand the difference between mortal and venial sin, and between personal and social sin. They will grow in their understanding of how sin can affect our relationship with God and how to reconcile relationships with God and others through the sacrament of Reconciliation and personal acts of atonement. The emphasis in the unit is on God's mercy.
Chapter 10: Why Do We Make a Lenten Journey?
Lesson 1: Beginning Our Lenten Journey
Chapter 11: How Do We Turn Away from God?
Lesson 2: The Problem with Sin
Lesson 3: Mending Our Broken Relationships
Lesson 4: Our God Is Ever Merciful
Saints: St. Faustina Kowalska, St. John Vianney
Bible Stories: Cain and Abel, Peter's Denial
Chapter 12: Why Did Jesus Die for Us?
Lesson 5: Understanding the Paschal Mystery
Bible Stories: Palm Sunday, growing
Unit 5: The Promise of the Holy Spirit is based in Ordinary Time and focuses on the call to live our lives as Jesus taught. Students will learn about the fulfillment of Jesus' promise to send an Advocate. Through an examination of scripture, they will learn about the events of Pentecost and the origins of the Church. They will explore how the Holy Spirit unites us as members of the Church and inspires us to fulfill Christ's mission. This unit emphasizes participation in Christ's mission through participation in the liturgies and outreach of the Church. Students will also explore devotions to Mary. They will learn that Mary is the first disciple and understand more about Mary's role as the Mother of God and the Mother of the Church.
Chapter 13: How Does the Holy Spirit Make Us Stronger in Our Faith?
Lesson 1: Alleluia, Alleluia, Alleluia
Lesson 2: Jesus with Us Always
Lesson 3: Pentecost: Filled with the Holy Spirit
Lesson 4: Come, Holy Spirit
Saints: St. Thomas the Apostle
Chapter 14: How Does Mary Show Us the Promise of the Holy Spirit?
Lesson 5: Mary, Mother of God, Mother of All
Saints: Our Lady of Lourdes, Our Lady of Fatima
Chapter 15: How Does the Holy Spirit Inspire Us?
Lesson 6: The Holy Spirit Inspires: Heart, Mind, and Action
Lesson 7: Created to Love and Serve
Lesson 8: Our Mission as Witnesses to Christ
Saints: St. Maximilian Kolbe
Students will also be learning the prayers:
The Morning Offering
O Jesus, through the Immaculate Heart of Mary,
I offer you my prayers, works, joys,
and sufferings of this day
for all the intentions of Your Sacred Heart,
in union with the Holy Sacrifice of the Mass
throughout the world,
in reparation for my sins,
for the intentions of all my relatives and friends,
and in particular for the intentions of our Holy Father the Pope.
Amen.
Act of Faith
O my God, I firmly believe that you are one God in three divine Persons,
Father, Son, and Holy Spirit. I believe that your divine Son became man
and died for our sins, and that He will come to judge the living and the
dead. I believe these and all the truths, which the holy Catholic Church
teaches, because you have revealed them, who can neither deceive nor
be deceived.
Amen.
Act of Hope
O my God, relying on your infinite mercy and promises, I hope to obtain
pardon of my sins, the help of your grace, and life everlasting, through the
merits of Jesus Christ, my Lord and Redeemer.
Amen.
Act of Love
O my God, I love you above all things with my whole heart and soul,
because you are all good and worthy of all my love. I love my neighbour
as myself for the love of you. I forgive all who have injured me, and I ask
pardon of those whom I have injured.
Amen.
Memorial Acclamation
We proclaim your Death, O Lord,
and profess your Resurrection
until you come again.
Amen.
When we eat this Bread and drink this Cup,
we proclaim your Death, O Lord,
until you come again.
Amen.
Save us, Saviour of the world,
for by your Cross and Resurrection
you have set us free.
Amen.
If you have any questions about the content of this program, please contact LeeAnn Arsenault, Faith Permeation Lead Teacher for Red Deer Catholic Regional Schools at leeann.arsenault@rdcrs.ca.