Our Vision and Mission
Inspired by Christ. Aspiring to Excellence.
Our Vision
Making Christ known to children.
Our Mission
Red Deer Catholic Regional Schools is committed to supporting inclusive communities that foster care and compassion of students, families and staff with a complete offering of learning opportunities delivered within the context of Catholic teachings and tradition, and within the means of the Division.
Called to continue Jesus' mission as prophet, priest and servant, we are guided by His life and teachings in all that we do.
Our schools are gospel-centred communities of hope, fostering a Catholic value system within a pluralistic society.
We focus on the education of the whole child helping students develop spiritually, intellectually, emotionally, socially and physically.
Our Principles of Practice guide us in all that we do:
We honour our children.
We provide a safe and secure environment.
We live and proudly proclaim our Catholic faith.
We provide quality education in a Catholic environment.
We pray as an educational community.
We practice servant-leadership.
We focus on our mission through clarity of purpose.
We value our staff.
From humble beginnings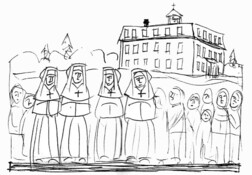 It all began in 1908, when the Daughters of Wisdom, a religious order from France, accepted the invitation of the Tinchebray Fathers to offer Catholic schooling in Red Deer. The first students enrolled in the covenant school on October 21, 1908. By 1909, a separate school district was formed, which is now called Red Deer Catholic Regional Schools.
The Division continues to grow and make the teachings of Christ known to children.