View all News
Introducing a new way to pay school fees
Introducing a new way to pay school fees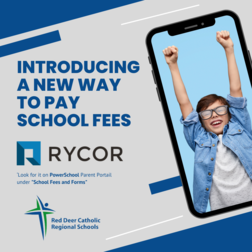 RDCRS School Fee Payments Just Got Easier!
Red Deer Catholic Regional Schools is excited to announce our new online payment system, starting September 19, 2022!
In an effort to reduce time, money and paper waste, parents can avoid the long lines of school start-up and pay their children's school fees through a secure online website that is accessed through the PowerSchool Parent Portal. All you need to do is click on the link in the sidebar menu that says, 'School Fees and Forms.'
If you are a parent who has multiple children at multiple schools, they will all appear together under your online payment parent account. With a few simple mouse clicks, parents can view assessed fees, any outstanding balances, and pay for all of their children in a single transaction. Payments can be made by Visa, Visa Debit, MasterCard, and Debit MasterCard.
For general information about fees or assistance in accessing your PowerSchool Parent Portal, please contact your child's school.
As a RDCRS parent, you have the option to pay a number of mandatory and elective school fees online. Our fee management and online payment system is an easy and secure way to pay school fees from the comfort of your home or office.
You can use the RDCRS online payment system to:
Pay mandatory school fees
Pay for optional fees such as Athletics, Field Trips, Extracurricular Fees
Make fee payments for all students in your family at one time
View your payment history
View all your upcoming fee payments in one place
Print payment receipts
Print Student Account Statements
Advantages to using the RDCRS online payment system:
Accepts Visa, Visa Debit, MasterCard, MasterCard Debit
Provides a convenient and secure transaction
Available 24 hours a day
Convenience of paying multiple fees in one place
Accessible from anywhere there is an Internet connection
Saves school office staff the time of manually keying payments into accounting and student fee information systems
Streamlines fee management and collection processes for parents and the district
Provides better fee reporting at the school and district level
Red Deer Catholic Regional Schools does not store or keep your credit information. All fee transactions paid online are processed by a third party (Moneris).
Posted on