Digital Citizenship
Parent Resource Page
What is Digital Citizenship?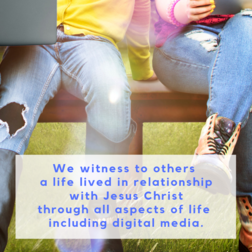 The practice of using the Internet and technology safely, respectfully and responsibly.
Best practices for responsible technology use.
Techniques and strategies for responsible use of social media and technology.
The ability to think critically and discern what is positive to share online and what should be kept private.
Protecting private information, respecting yourself and others, staying safe online, giving proper credit when using someone else's work, and balancing time spent online and offline.
February 12, 2018 By Smart Social
Digital Citizenship Themes
The following themes from Common Sense Media are used to support Digital Citizenship at Red Deer Catholic Regional Schools. These themes are shared throughout the school year.
Internet safety
Privacy and security
Creative credit and copyright
Information literacy
Cyberbullying, digital drama and hate speech
Relationships and communications
Digital footprint and identity
Media balance and well-being
Resources
The resources provided here contain useful information regarding digital citizenship. They contain links to external sites which may not represent the views of Red Deer Catholic Regional Schools.