View all News
Thank you to everyone who made our Rosary Celebration possible
Thank you to everyone who made our Rosary Celebration possible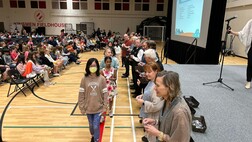 Last Thursday we welcomed grade five students from École Mother Teresa Catholic School, Father Henri Voisin School, Holy Family School, Maryview School, St. Elizabeth Seton School, St. Martin de Porres School, St. Teresa of Avila School, École Camille J. Lerouge School, Holy Trinity Catholic School, St. Gregory the Great Catholic School, St. Marguerite Bourgeoys Catholic School, St. Matthew Catholic School, and St. Patrick's Community School as well as our friends from École La Prairie to our annual Rosary Celebration at St. Joseph High School.

Local Knights of Columbus councils purchased the rosaries that were presented to all 740 grade 5 students in the division.

Students were engaged in learning about the history and importance of the Holy Rosary and reflected on how they can say YES to God, and live a life devoted to Jesus just as our blessed Mother Mary did.

#ibelieveincatholiced
Posted on