View all News
Superintendent's Letter to RDCRS Parents, Guardians and Staff - May 2023
Superintendent's Letter to RDCRS Parents, Guardians and Staff - May 2023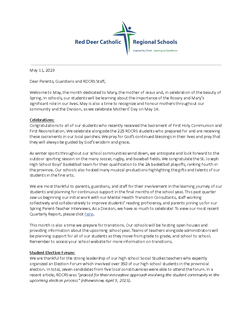 May 11, 2023
Dear Parents, Guardians and RDCRS Staff,
Welcome to May, the month dedicated to Mary, the mother of Jesus and, in celebration of the beauty of Spring. In schools, our students will be learning about the importance of the Rosary and Mary's significant role in our lives. May is also a time to recognize and honour mothers throughout our community and the Division, as we celebrate Mothers' Day on May 14.
Celebrations:
Congratulations to all of our students who recently received the Sacrament of First Holy Communion and First Reconciliation. We celebrate alongside the 225 RDCRS students who prepared for and are receiving these sacraments in our local parishes. We pray for God's continued blessings in their lives and pray that they will always be guided by God's wisdom and grace. 
As winter sports throughout our school communities wind down, we anticipate and look forward to the outdoor sporting season on the many soccer, rugby, and baseball fields. We congratulate the St. Joseph High School Boys' Basketball team for their qualification to the 2A basketball playoffs, ranking fourth in the province. Our schools also hosted many musical productions highlighting the gifts and talents of our students in the fine arts. 
We are most thankful to parents, guardians, and staff for their involvement in the learning journey of our students and planning for continuous support in the final months of the school year. This past quarter
saw us beginning our initial work with our Mental Health Transition Consultants, staff working collectively and collaboratively to improve students' reading proficiency, and parents joining us for our Spring Parent-Teacher Interviews. As a Division, we have so much to celebrate! To view our most recent Quarterly Report, please click here. 
This month is also a time we prepare for transitions. Our schools will be hosting open houses and providing information about the upcoming school year. Teams of teachers alongside administrators will be planning support for all of our students as they move from grade to grade, and school to school. Remember to access your school website for more information on transitions.
Student Election Forum:
We are thankful for the strong leadership of our high school Social Studies teachers who expertly organized an Election Forum which involved over 350 of our high school students in the provincial election. In total, seven candidates from five local constituencies were able to attend the forum. In a recent article, RDCRS was "praised for their innovative approach involving the student community in the upcoming election process" (rdnewsnow, April 9, 2023).
Board Advocacy Postcard:
As part of the Board of Trustees' ongoing work to advocate for Catholic education and support the best interests of our students, trustees will provide School Councils and stakeholders with a postcard outlining key advocacy points during the upcoming election. To view the Advocacy Priorities and Key Messaging postcard, please click here. 
Curriculum Implementation:
This year, all schools involved in curriculum implementation developed strong launch events to introduce the new curriculum and establish safe risk-taking environments for teachers to collaborate and examine instructional practices through collaborative planning. 
In total, 290 Kindergarten to Grade 6 English Language Arts teachers and administrators participated in sessions focused on how to teach phonological awareness, phonics, and fluency, called the Science of Reading. Physical Education and Wellness specialist teachers met and collaborated on new resources and implementation strategies for the new curriculum.
In September 2023 all Alberta school divisions will implement new curriculums for: 
Grades 4–6 English Language Arts and Literature and Mathematics 
Kindergarten to Grade 3 Science
French Immersion Language Arts and Literature, and French First Language and Literature. 
School divisions will  have the option to implement Grades 4–6 Science, French Immersion Language Arts and Literature, and French First Language and Literature curriculums.
Schollie Survey and Alberta Education Assurance Surveys:
Many, many thanks to students, parents, and staff for completing both the Schollie Survey and the Alberta Education Assurance Survey which helps inform RDCRS' Education Plan. We are currently meeting with school administration teams in collaborative conversations to discuss our successes and challenges this year in the development of school action plans as we focus on continuous improvement.
Looking to the month ahead, please pray for the tens of thousands of Albertans impacted by the wildfires as we move into a state of emergency to ensure the safety and well being of those affected. 
As we continue to also focus on Mary throughout this month, reach out in prayer to our Blessed Mother for console, comfort, and renewal of confidence as she walks alongside us throughout our days.
Happy Mothers' Day!
God bless,
Dr. Kathleen Finnigan
Superintendent
Posted on