View all News
St. Gregory the Great nominated for Blackfalds business award
St. Gregory the Great nominated for Blackfalds business award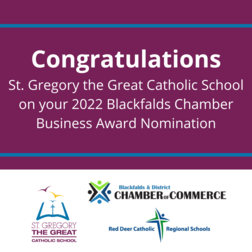 Did you hear the news?
One of our schools, St. Gregory the Great Catholic School, has been nominated for a Blackfalds & District Chamber of Commerce Business Award! SGTG is nominated in the Business Service Excellence category.
Voting is now open until October 5. The top 3 finalists will be announced September 22.
Visit https://www.blackfaldschamber.ca/vote/ to cast your vote.
The winners will be announced at the Awards Gala on October 20.
Posted on