View all News
My Driver, My Hero Poster Contest
My Driver, My Hero Poster Contest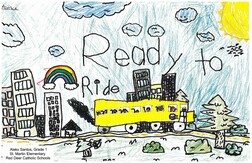 As part of School Bus Safety Week, the Alberta Student Transportation Advisory Council is holding a provincial poster contest. This year's theme is My Driver, My Hero.
Kindergarten-Grade 6 students have the opportunity to win a $25 gift card, a framed original of their poster along with a cheque for $100 for their classroom and an engraved plaque. 
The deadline is November 6, 2020.
To learn more about the poster contest, please click here.
Posted on