View all News
Local students receive vet tech certificate from Olds College
Local students receive vet tech certificate from Olds College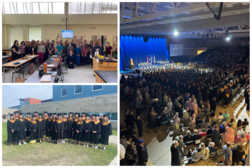 During the June 3 - 4 weekend students in the Dual Credit Veterinary Technician Assistant Certificate Program were part of the convocation ceremonies at Olds College of Agriculture & Technology.
These students were part of the first Central Alberta cohort who completed their Certificate and crossed the stage at Olds College before most of them had participated in their high school graduation.
Spring Wilson, a grade 11 student from St. Joseph High School and Jayden Linton, a grade 12 student from École Secondaire Notre Dame High School, were both successful in reaching this milestone.
"The dual credit program has opened my eyes to a whole new world of possibilities. I would never believe I could have the opportunity to become a VTA (Veterinary Technician Assistant) while still in high school," Jayden said. "I am very proud of this accomplishment and grateful I had this opportunity. It was hard work but I was supported all the way. Now I know what it takes to be successful in post-secondary, this is just the beginning for me."
Congratulations, Spring and Jayden!
#rdcrs #dualcredit #vettech
Posted on