View all News
Parent Letter Regarding the Extended Winter Break to January 10th
Parent Letter Regarding the Extended Winter Break to January 10th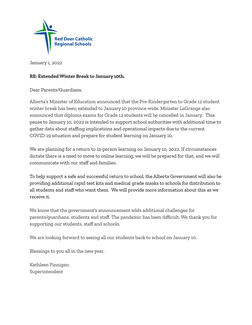 January 1, 2022
RE: Extended Winter Break to January 10th
Dear Parents/Guardians,  
Alberta's Minister of Education announced that the Pre-Kindergarten to Grade 12 student winter break has been extended to January 10 province-wide. Minister LaGrange also announced that diploma exams for Grade 12 students will be cancelled in January.  This pause to January 10, 2022 is intended to support school authorities with additional time to gather data about staffing implications and operational impacts due to the current COVID-19 situation and prepare for student learning on January 10.  
We are planning for a return to in-person learning on January 10, 2022. If circumstances dictate there is a need to move to online learning, we will be prepared for that, and we will communicate with our staff and families.
To help support a safe and successful return to school, the Alberta Government will also be providing additional rapid test kits and medical grade masks to schools for distribution to all students and staff who want them.  We will provide more information about this as we receive it.
We know that the government's announcement adds additional challenges for parents/guardians, students and staff. The pandemic has been difficult. We thank you for supporting our students, staff and schools. 
We are looking forward to seeing all our students back to school on January 10. 
Blessings to you all in the new year.
Kathleen Finnigan
Superintendent
Posted on