View all News
Letter from the Chief Medical Officer of Health
Letter from the Chief Medical Officer of Health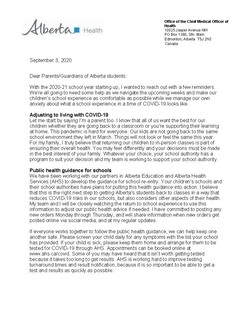 With the 2020-21 school year starting up, Dr. Deena Hinshaw wanted to reach out with a few reminders.
We're all going to need some help as we navigate the upcoming weeks and make our children's school experience as comfortable as possible while we manage our own anxiety about what a school experience in a time of COVID-19 looks like.
Read the letter here.
Posted on