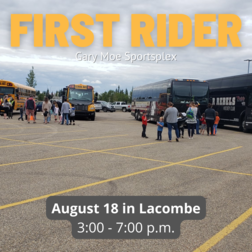 Heads up, City of Lacombe residents!

The First Rider bus safety event will be taking place from 3:00 - 7:00 p.m. at the Gary Moe Sportsplex.

The event gives younger students (kindergarten & grade 1) who will be riding a bus for the first time an introduction to school bus safety.

There is no charge to attend.

#rdcrs #firstrider #bussafety
Posted on