View all News
Grateful Advocates for Catholic Education (GrACE)
Grateful Advocates for Catholic Education (GrACE)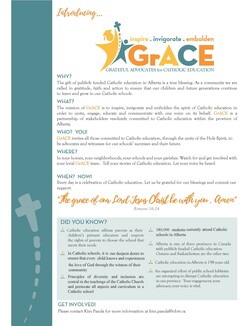 The gift of publicly-funded Catholic education in Alberta is a blessing. As a community, we are called in gratitude, faith and action to ensure that our children and future generations continue to learn and grow in our Catholic schools.
The goal of GrACE is to advocate for publicly-funded Catholic education across the province of Alberta. It is supported by the Alberta Bishops, Alberta Catholic School Trustees and Catholic School Superintendents of Alberta.
How to get involved and to learn more, please visit https://www.rdcrs.ca/board/grace.
Posted on