View all News
COVID-19 Measures and Shifts in Learning
COVID-19 Measures and Shifts in Learning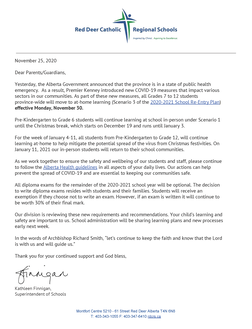 Yesterday, the Alberta Government announced that the province is in a state of public health emergency.  As a result, Premier Kenney introduced new COVID-19 measures that impact various sectors in our communities. As part of these new measures, all Grades 7 to 12 students province-wide will move to at-home learning (Scenario 3 of the 2020-2021 School Re-Entry Plan) effective Monday, November 30. 
Pre-Kindergarten to Grade 6 students will continue learning at school in-person under Scenario 1 until the Christmas break, which starts on December 19 and runs until January 3. 
For the week of January 4-11, all students from Pre-Kindergarten to Grade 12,  will continue learning at-home to help mitigate the potential spread of the virus from Christmas festivities. On January 11, 2021, our in-person students will return to their school communities. 
As we work together to ensure the safety and wellbeing of our students and staff, please continue to follow the Alberta Health guidelines in all aspects of your daily lives. Our actions can help prevent the spread of COVID-19 and are essential to keeping our communities safe.
All diploma exams for the remainder of the 2020-2021 school year will be optional. The decision to write diploma exams resides with students and their families. Students will receive an exemption if they choose not to write an exam. However, if an exam is written it will continue to be worth 30% of their final mark.
Our division is reviewing these new requirements and recommendations. Your child's learning and safety are important to us. School administration will be sharing learning plans and new processes early next week.
In the words of Archbishop Richard Smith, "let's continue to keep the faith and know that the Lord is with us and will guide us."
Thank you for your continued support and God bless.
Posted on