View all News
National Indigenous Peoples Day
National Indigenous Peoples Day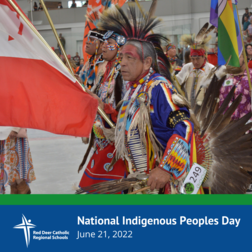 Today, on National Indigenous Peoples Day, we celebrate the heritage, diverse cultures, and outstanding achievements of the First Nations, Métis, and Inuit.
It is held around the time of the summer solstice - the longest day of the year - and is of spiritual significance for many Indigenous peoples.
We honour this day by building knowledge about Indigenous peoples' histories and current ways of knowing and doing as Red Deer Catholic Regional Schools.
#rdcrs #NIPD2022 #NIPDCanada
Posted on