View all News
My child is sick, what do I do next?
My child is sick, what do I do next?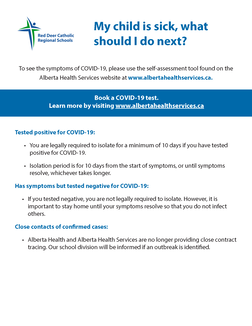 To see the symptoms of COVID-19, please use the self-assessment tool found on the Alberta Health Services website at www.albertahealthservices.ca.
Book a COVID-19 test. Learn more by visiting www.albertahealthservices.ca
Tested positive for COVID-19:
You are legally required to isolate for a minimum of 10 days if you have tested positive for COVID-19.
Isolation period is for 10 days from the start of symptoms, or until symptoms resolve, whichever takes longer.
Has symptoms but tested negative for COVID-19:
If you tested negative, you are not legally required to isolate. However, it is important to stay home until your symptoms resolve so that you do not infect others.
Close contacts of confirmed cases:
Alberta Health and Alberta Health Services are no longer providing close contact tracing. Our school division will be informed if an outbreak is identified.
Posted on