View all News
School Health Measures now include Wearing Masks
School Health Measures now include Wearing Masks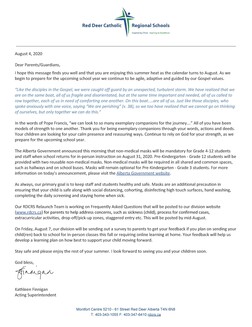 The Alberta Government announced this morning that non-medical masks will be mandatory for Grade 4-12 students and staff when school returns for in-person instruction on August 31, 2020. Pre-Kindergarten - Grade 12 students will be provided with two reusable non-medical masks. Non-medical masks will be required in all shared and common spaces, such as hallways and on school buses. Masks will remain optional for Pre-Kindergarten - Grade 3 students.
For more information on today's announcement, please visit the Alberta Government website.
Please read our parent letter on what to expect this upcoming school year.
Posted on