View all News
Upcoming social networking safety event
Upcoming social networking safety event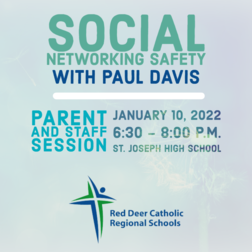 On January 10, 2022, Red Deer Catholic Regional Schools is hosting Paul Davis, who will educate our middle school students about social networking and online safety.
The parent and staff session runs from 6:30 - 8:00 p.m. that evening at St. Joseph High School.
Please be advised: due to the sensitive nature of the presentation, this event is not suitable for children.
Posted on