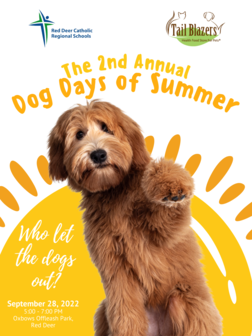 Bigger. Better. Bark-ier?
We invite staff, students, families, and friends to join us next week for the second annual Dog Days of Summer event at the Oxbows Off Leash Dog Park. (40 Avenue and 19 Street, Red Deer).
This free event is guaranteed to be a tail-wagging good time. Join us any time between 5:00 and 7:00 p.m. and enter to win a fabulous prize and Wag Bags from the team at Tail Blazers North Red Deer and Tail Blazers South Red Deer.
#rdcrs #dogdaysofsummer
Posted on