View all News
National Day for Truth and Reconciliation
National Day for Truth and Reconciliation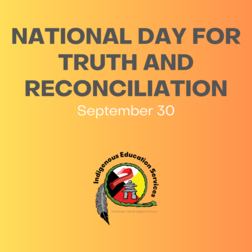 Today, we stand together as a community to honor and acknowledge the significance of the National Day for Truth and Reconciliation. On this day, we commemorate the survivors and families impacted by the residential school system and the intergenerational trauma it has caused.

Let us take this moment to reflect on the history of Indigenous peoples in our nation and embrace the opportunity to learn, listen, and grow. It is crucial that we unite in recognizing the importance of truth and reconciliation in our society.

We invite each and every one of you to engage with this meaningful day in your home communities. This may involve learning about the history of Indigenous peoples, engaging in meaningful conversations, or participating in local events. Education is a powerful tool in promoting understanding, empathy, and healing.

Let us commit to fostering a compassionate and inclusive community, where we support one another and advocate for a world built on respect, understanding, and unity. Together, we can create positive change and work towards a better and more equitable future.

#NationalDayForTruthAndReconciliation #TruthAndReconciliation #NDTR
Posted on