View all News
Keep Christ in Christmas Poster Contest
Keep Christ in Christmas Poster Contest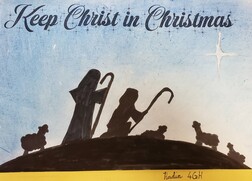 The Knights of Columbus is having the "Keep Christ in Christmas" poster contest. The contest will be judged in the following five categories: Grade 1, Grade 2, Grade 3, Grade 4, and Grade 5.
For more details on the contest, please click here.

The entries should be sent to RDCRS Division Office to allow time for the judging of all entries. Certificates and awards will be delivered to the schools the week of December 14 - 18. Due to COVID-19 restrictions, school administrators will be asked to make these presentations to the winning students in their school. This year, again due to COVID-19 restrictions, only the 15 winning posters will be on display during the Christmas Holidays at St. Mary's Parish.
Posted on