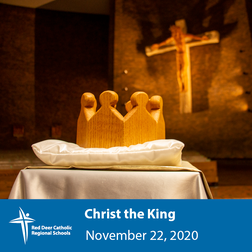 Today we celebrate the Solemnity of Christ the King as the finale of the liturgical year—its final Sunday. 
The Church presents us with the paradoxical image of the Crucified Christ as King. 
The challenge of Christ the King Sunday is to see the divine in the human, the light in the midst of darkness, hope in the midst of sorrow and suffering—to have the confidence of the Good Thief that there is something bigger and greater waiting after death for those who have faith in God.
Posted on