View all News
Teacher PD Day - St. Patrick's Community School
Teacher PD Day - St. Patrick's Community School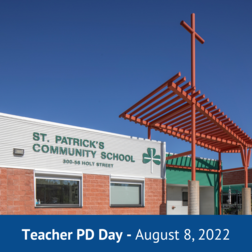 This week, staff and students return to the halls of St. Patrick's Community School. We humbly ask for God's blessings as they start a new school year.
"Our God, rich in mercy and full of the greatest love for us, we bow before you with humble hearts to ask for your blessings on this new school year.
May our teachers begin the school year with renewed strength, free of weariness, and ready to take on each day with grace, wisdom and kindness."
Posted on