View all News
Parent, Caregiver, Stakeholder Boundary Update Letter - May 2022
Parent, Caregiver, Stakeholder Boundary Update Letter - May 2022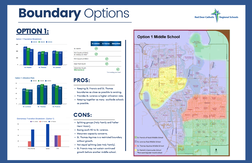 May 18, 2022
Dear Parents, Caregivers, and Stakeholders
The Red Deer Catholic Regional Schools Board of Trustees and Senior Administration Team would like to thank our parents and stakeholders for their engagement in our boundary development process. We recognize that changes like these are not easy and sincerely appreciate the many ideas and solutions that were presented as part of the process. We have continued to evolve our boundary options based on ideas from stakeholders while ensuring sustained growth and maximized utilization in our school communities.
Many of these ideas resulted in new options and adjustments to others. Based on your feedback, we feel we have narrowed our vision to a system of school boundaries that will alleviate pressure in some of our schools where capacity is high while still maintaining the guiding principles for our boundary development process which were to: 
Minimize splitting elementary students to more than 2 middle schools when they transition to Grade 6; try to achieve a 50% split if possible.
Avoid leapfrogging subdivisions.
Allow schools to continue to see growth.
Minimize consecutive years when students need to change schools 
As a result of discussion and feedback, six options are now available for viewing by clicking the link as well as on school websites. These are modified versions of the original three options presented to parents based on recommendations from stakeholders via public meetings, letters, emails, and a Division-wide survey. 
The boundary decision item will be on the next Board meeting agenda. A final decision will be made by the Board no later than the June Board meeting. Please note that the new boundary and transportation changes will go into effect at the start of the 2023-2024 school year which begins in August 2023.
We thank you for your consultation during this process and look forward to continued collaboration in the future. 
God bless,
Kathleen Finnigan
Superintendent of Schools
Posted on