View all News
School Re-Entry Adjustments - September 17, 2021
School Re-Entry Adjustments - September 17, 2021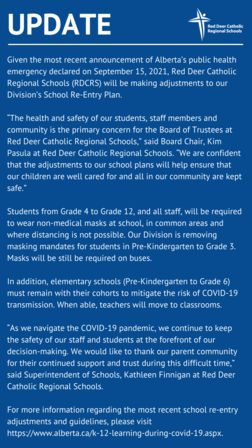 Good morning,
Thank you for your continued support and understanding. Given the most recent announcement of Alberta's public health emergency declared on September 15, 2021 from the Government of Alberta and the new measures announced to mitigate the transmission of COVID-19, Red Deer Catholic Regional Schools (RDCRS) will be making adjustments to our Division's School Re-Entry Plan. These adjustments reflect the new guidelines for schools.
"The health and safety of our students, staff members and community is the primary concern for the Board of Trustees at Red Deer Catholic Regional Schools," said Board Chair, Kim Pasula at Red Deer Catholic Regional Schools. "We are confident that the adjustments to our school plans will help ensure that our children are well cared for and all in our community are kept safe."
RDCRS is adjusting the mandatory masking age requirement based on the measure of cohorting for elementary schools provided by the Alberta Government. All staff and students from Pre-Kindergarten to Grade 12, will be required to wear non-medical masks on school buses. Students from Grade 4 to Grade 12, and all staff, will be required to wear non-medical masks at school, in common areas and where distancing is not possible.
Our Division is removing masking mandates for students in Pre-Kindergarten to Grade 3. Students are still welcome to wear masks. In classrooms, if students are front-facing and seated in rows with the greatest distance possible or two meters apart, students can remove masks. Teachers will work to adjust their classroom spacing as much as possible. For staff and students, masks are not required when outdoors and during physical activities any student 18 years and younger may remove their mask.
Individuals who are unable to wear a mask will require a doctor's note in alignment with Alberta Health CMOH Order 40-2021. Families will work with the school administration on how this will apply to their child, and a medical exemption letter will be required.
In addition, elementary schools (Pre-Kindergarten to Grade 6) must remain with their cohorts to mitigate the risk of COVID-19 transmission. When able, teachers will move to classrooms.
During field trips, students must be seated in cohorts on the bus. In congregated programs, such as Blended and Foundations, students can join their mainstream cohorts. Options and sport academies for Grade 6 students will continue as these are part of the student learning cohort.
School sports will continue with masking requirements in place for students who are off fields of play. All spectators and coaches will be required to wear a mask. In addition, spectators of indoor activities will be at one-third capacity, seated within households, and physically distanced. Spectator numbers for outdoor physical activities are currently capped at 200.
Band and music programs will require physical distancing and instrument barriers. Masks will be required when students are not playing an instrument.
At this time, visitors and parents are welcome into schools by appointment only with school administration. We ask that those who are wanting to make an appointment, please call ahead to make arrangements.
We are providing the space as we have always done for vaccinations in the past as part of the routine school-aged immunization program. Any families interested in a COVID-19 vaccination would need to complete and return the consent form to the school.
"As we navigate the COVID-19 pandemic, we continue to keep the safety of our staff and students at the forefront of our decision-making. We would like to thank our parent community for their continued support and trust during this difficult time," said Superintendent of Schools, Kathleen Finnigan at Red Deer Catholic Regional Schools.
For more information regarding the most recent school re-entry adjustments and guidelines, please visit https://www.alberta.ca/k-12-learning-during-covid-19.aspx.
God bless,
Kathleen Finnigan, Superintendent of Schools
Red Deer Catholic Regional Schools
"Be Strong, Be Brave, Be Fearless. You Are Never Alone.
Sois fort, sois courageux, et n'aie pas peur. Dieu est toujour
Posted on