View all News
Child and Youth Well-Being Review Town Halls
Child and Youth Well-Being Review Town Halls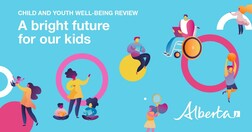 COVID-19 hasn't been easy on kids and youth. The Alberta Government wants to hear how it's affected the young people in your life so they can better support them now and into the future.
There are three public telephone town halls scheduled for July. Click here to register for one of the three Public Virtual Town Hall events.
The town halls are an opportunity for Albertans to tell share their stories with the panel and tell them how COVID-19 has affected the young people in their lives.
Posted on