View all News
Orange Shirt T-Shirt Contest: Deadline is Today
Orange Shirt T-Shirt Contest: Deadline is Today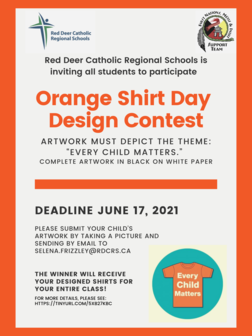 We would like to welcome all students in the Division to participate in creating the Orange Shirt Day 2021 design. 
Deadline for Entries: Today (June 17, 2021)
Criteria:
Theme: Artwork must depict the theme: "Every Child Matters." The overall winner must depict Indigenous culture and why it is important to look out for other youth in the world.
Please include the following words on the artwork "Every Child Matters".
Ideas: You are welcome to include words in Indigenous languages, handprints, feathers, turtles, animals, ideas of reconciliation, residential schools, etc...
Design: The artwork should be completed in black so that it will stand out on an orange t-shirt. Please complete on white paper that is line-free.
Submission: You may submit your child's artwork by taking a picture and sending the picture by email to Selena Frizzley no later than the June 15 deadline. Be sure to include in the email your child's name, school, grade and teacher's name. Please send to selena.frizzley@rdcrs.ca.
Contest Judging:
All artwork must depict the Orange Shirt Day Theme: "Every Child Matters."
Each submission is judged on originality, artistic merit and expression of the theme. Submitted artwork must be an original creation. Please, no tracing or copying others' artwork.
The design will be judged on the ability for it to be printed and used as a t-shirt design that reflects the theme.
Posted on