View all News
Alberta Government: Updated School Reporting
Alberta Government: Updated School Reporting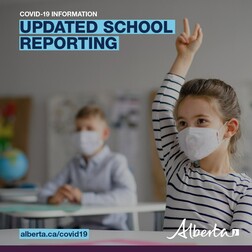 Currently, schools with COVID-19 cases are described as either being on alert, outbreak or watch. Each category reflects a certain number of cases at a particular school.
As of Monday, January 18, the following terms will be used:
Alert: one to four cases
Outbreak: five-plus cases
The term "watch," which many partners found confusing, will no longer be used.
Please learn more about learning during COVID-19, please visit the Alberta Government's website.
Posted on