View all News
Division Theme Art Contest
Division Theme Art Contest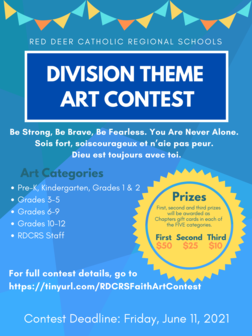 We are holding our annual Division Theme Art Contest to acquire the art for next year's division faith theme:
"Be Strong, Be Brave, Be Fearless. You Are Never Alone. / Sois fort, sois courageux et n'aie pas peur. Dieu est toujours avec toi."
For full contest details, click here.
Please submit your child's art by taking a picture and sending the picture by email to LeeAnn Arsenault no later than the June 1 deadline. Please be sure to include in the email your child's name, school, grade and teacher's name. Please send to leeann.arsenault@rdcrs.ca.
Posted on