Community Resources
Family School Enhancement Counsellors are here to support all students and their families through life's challenges.
Help Seeker App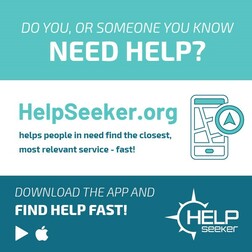 The Help Seeker app gives you access to your local community health and social services. 
COVID-19 Resources:
Currently, the spread of COVID-19 has caused many disruptions in the lives of many families.
Please read Alberta Health Services Help in Tough Times page on their website.
Here are some community-specific resources:
Local Libraries:
24-Hour Help
2-1-1 Alberta
2-1-1
Bully Line for Youth
1-888-456-2323
Central Alberta Emergency Centre
403-346-5643 or 1-888-346-5643
Child Abuse Hotline
1-800-357-5437
Distress Centre Calgary
1-403-266-HELP
Distress Line – 403 Area Code
1-800-SUICIDE
Distress Line – 780 Area Code
1-800-232-7822
HEALTHLink Alberta
8-1-1
Hospital Emergency (Red Deer)
403-343-4444
KIDS Help Phone
1-800-668-6868
Native Youth Crisis Hot Line
1-877-209-1266
Sexual Assault Crisis Line Red Deer
1-403-356-1099
Shelter Text (24-hr Text)
403-358-1517
Local Resource List
49th Street Youth Shelter
403-341-3190
AHS Addictions and Mental Health - for adults (Red Deer)
403-340-5466
AHS Addictions and Mental Health - for youth (Red Deer) 
403-340-5274
Canadian Mental Health Association
403-342-2266
Catholic Social Services 
403-347-8844
Family Services of Central AB
403-343-6400
Mental Health Clinic (AHS Walk-in Counselling)
403-340-5466
Vantage Community Services (Walk-in Counselling)
403-340-8995
Police and Crisis Team (PACT)
403-406-2505
Suicide Information and Education Services
403-342-4966
Youth Phone line
403-358-3674
Web Resources
www.albertahealthservices.ca
www.albertahealthservices.ca/addiction.asp
www.cmha.ca
www.kidshelpphone.ca
www.suicidehelp.ca
www.bullying.org
Suicide Awareness - Warning Signs 
Sudden changes in appearance or mood
Giving away personal or meaningful objects
Threats of suicide or self-harm
Depression/hopelessness
Withdrawal/isolation
Drug or alcohol abuse
Talking about what dying would be like
Drawing/writing about death
Risky behaviour, misconduct, breaking the law
Grades dropping
Lack of sleep/oversleeping
Lack of interest in previously enjoyed activities
Recent loss(family issues, divorce, moving etc..)
Previous suicide attempt
Suicide attempt by a friend or family member