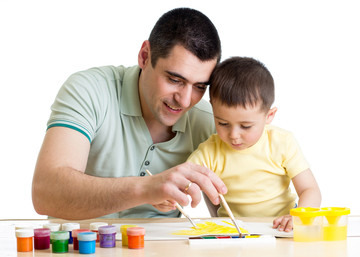 Our schools are called to strengthen families in their God-given mission. The family is the sanctuary of life, a place in which life, a gift from God, is welcomed, nourished and protected. It is a vital unit of society. Family Oriented Programming is one way we can support families.
Family Oriented Programming offers opportunities for the family and caregivers to engage in fun activities together. There are many sessions all designed to enhance a child's classroom experience by supporting the family in key areas.
The bonds in a family are central in the lives of children. They shape a child's identity and development. Engaging as a family in a child's learning and development strengthens these bonds and contributes to a child's success.
The sessions offered through Family Oriented Programming are opportunities for children to reach their developmental goals and for families to increase their parenting knowledge and skills.
Sessions to Meet Child's Needs
Families of children who have identified additional needs and, whose program is supported by an Individualized Program Plan, are encouraged to participate in a minimum of four sessions throughout the school year.
Family Oriented Programming assists families in all areas of child development. The sessions include:
Family Support and Strategies
Language and Literacy Sessions
Physical Development through Movement and Play
Family Field Trips