View all News
School Re-Entry Update from the Alberta Government
School Re-Entry Update from the Alberta Government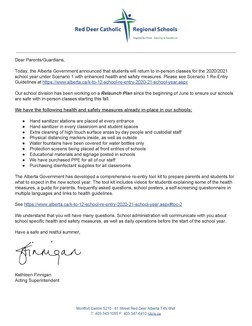 The Alberta Government announced that students will return to in-person classes for the 2020/2021 school year under Scenario 1 with enhanced health and safety measures. Please see Scenario 1 Re-Entry Guidelines at https://www.alberta.ca/k-to-12-school-re-entry-2020-21-school-year.aspx
Our school division has been working on a Relaunch Plan since the beginning of June to ensure our schools are safe with in-person classes starting this fall.
We have the following health and safety measures already in place in our schools:
Hand sanitizer stations are placed at every entrance
Hand sanitizer in every classroom and student spaces
Extra cleaning of high touch surface areas by day people and custodial staff 
Physical distancing markers inside, as well as outside
Water fountains have been covered for water bottles only
Protection screens being placed at front entries of schools
Educational materials and signage posted in schools
We have purchased PPE for all of our staff
Purchasing disinfectant supplies for all classrooms
The Alberta Government has developed a comprehensive re-entry tool kit to prepare parents and students for what to expect in the new school year. The tool kit includes videos for students explaining some of the health measures, a guide for parents, frequently asked questions, school posters, a self-screening questionnaire in multiple languages and links to health guidelines. 
See https://www.alberta.ca/k-to-12-school-re-entry-2020-21-school-year.aspx#toc-2
We understand that you will have many questions. School administration will communicate with you about school-specific health and safety measures, as well as daily operations before the start of the school year.
Posted on