June: The Balancing Act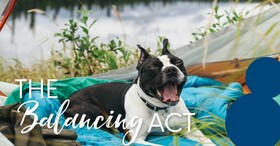 Knowing how to balance priorities sets the stage for creating a healthier version of you and significantly impacts those around you. With all the ongoing and often competing demands, it's easy to feel disconnected from what gives you fulfilment and purpose - which can ultimately impact your well-being.
Find the balance you're looking for-at work, home and in your communities.
Making it happen:
Get smarter, not busier: let go of things that take up a lot of time but aren't exactly necessities.
Ask for help: whether you need to ask a coworker or a family member, reach out for help - it's okay to be vulnerable.
Take some you time: while it might not always seem urgent, regular self-care is important.
Customize your self-care: find and practice self-care activities that help you find the balance you need.