September: Take the Time for Wellness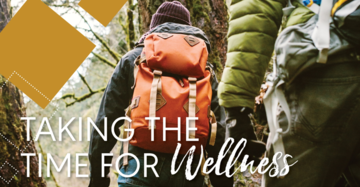 September is a great time to create a plan for balance with all the excitement and challenges that come with a new school year. Think about where you are on your health journey, where you'd like to be and how you might get there. Use the eight key dimensions of wellness in your life:
Emotional - You're aware of your feelings and express them in beneficial ways.
Environmental - Where you live, work and play are safe and leave you inspired, calm and creative.
Financial - Your current situation isn't a source of stress. You're knowledgable about personal finances and actively planning your future. 
Occupational - You're engaged and fulfilled at work. You find it interesting, meaningful and personally enriching. 
Physical - You keep your body well cared for by eating healthy, moving often, practicing proper sleep, hygiene and attending medical appointments. 
Social - Your communication skills are strong and you have a supportive social and professional network. Your interactions help you foster a sense of connection and belonging. 
Spiritual - You spend time reflecting on and appreciating your life and purpose. Your actions are aligned with your beliefs and values, and you're comfortable with who you are.