February: Contagious Kindness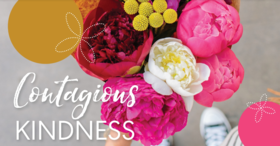 It's no surprise that fostering kindness can positively impact both individuals and workplace cultures. It makes us feel happier and improves our overall well-being.
How can you foster kindness?
Let someone know you're grateful for them. Expressing gratitude can increase the happiness of both the person expressing and the person receiving it. When we practice gratitude, it's easier to show appreciation for others.
Offer to support someone by lighting their load. Here, the offer to help usually means more to the recipient than the act itself.
Let others shine by encouraging them to take the lead. This is a great way to demonstrate how much you value their input and leadership.
Acknowledge your peers' unique perspectives and knowledge. Let them know how much you've learned from them.